UKIYO-E LANDSCAPES: Hiroshige, Kiyochika and Hasui-Eyes of Three Generations
Planned Exhibition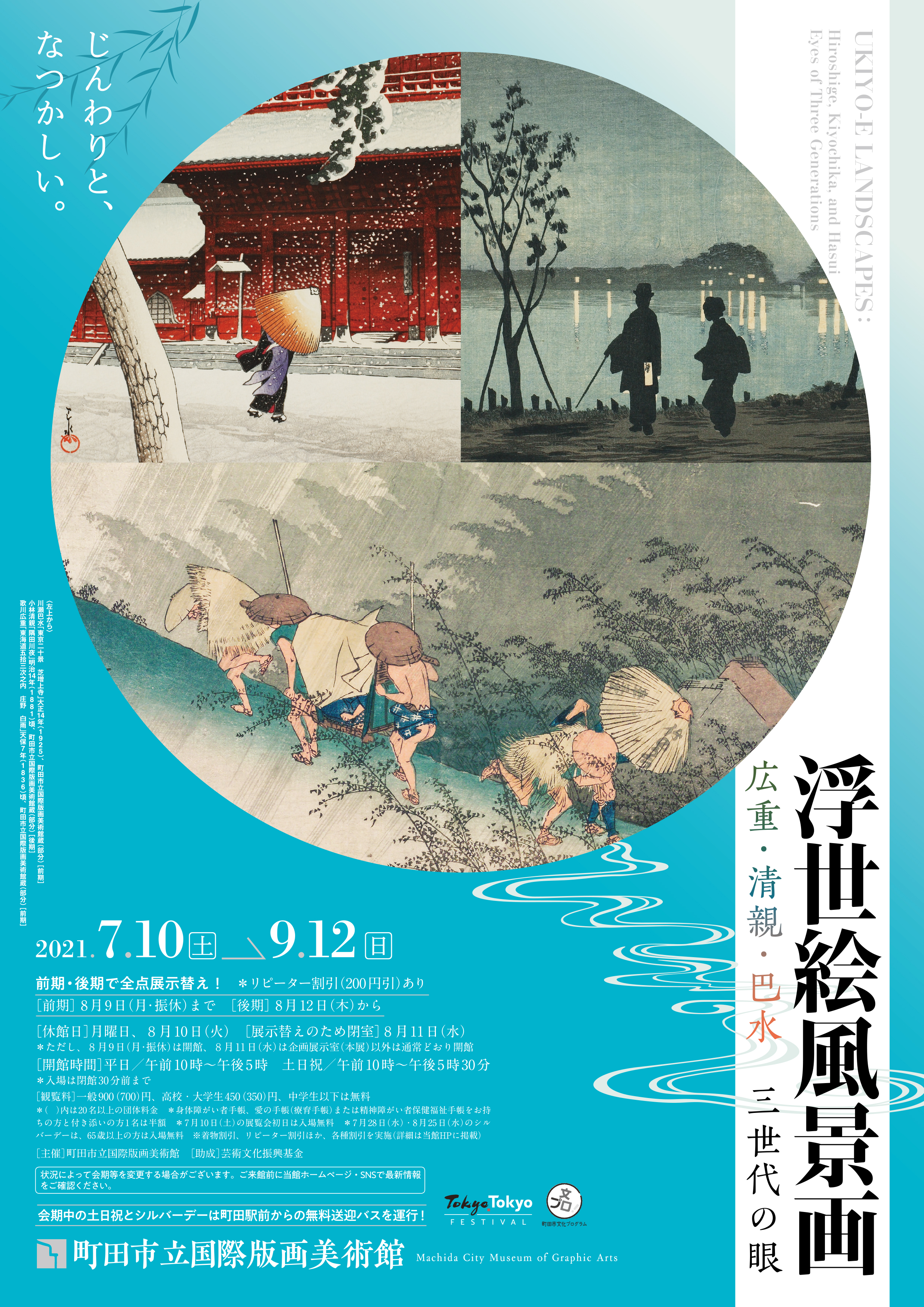 Utagawa Hiroshige(1797-1858), Kobayashi Kiyochika(1847-1915)and Kawase Hasui (1883-1957), are wellknown landscape print artists in three different periods, Edo, Meiji and Taisho to Showa. This exhibition will introduce their representative landscape prints.


Duration


Jul. 10 (Sat.) – Sep. 12 (Sun.)

*All of the exhibits will be replaced during the exhibition period.
First phase: until Manday, August 9; Second phase: from Tuesday, August 12


Closed days


Monday. And closed on Thursday, August 10 and Wednesday, August 11.
*Open Monday, August 9 (public holiday)


Opening hours


Weekdays 10 a.m.-5 p.m. (last entry 4:30 p.m.)
Saturdays, Sundays, and national holidays 10 a.m.-5:30 p.m. (last entry 5 p.m.)



Venue
Special Exhibition Room 1&2



Sponsors
Japan Arts Council



Accredited Program
Machida City Cultural Program, Tokyo Tokyo Festival



Admission fees


Adults ¥900 (¥700),
University and high school students ¥450 (¥350),
Junior high school students and younger free of charge


Free admission days


First day of the exhibition: Saturday, July 10
Sliver days(free admission for those aged 65 and over):Wednesdays, July 28, August 25.



Repeater discount


Flat discount: 200 yen off
Please present your ticket stub at the ticket booth.



Kimono discount


Flat discount: 100 yen off
Please wear a kimono when you come to our museum.



Taxi discount


Flat discount: 100 yen off
Please present a taxi receipt issued on the day at the ticket booth.
*Discount is given to one person per receipt.



Passport discount


Flat discount: 100 yen off
Please present the front cover of your non-Japanese passport at the ticket booth.



Shared-cycle discount


Flat discount: 100 yen off
Please present the usage history page of the shared-cycle app at the ticket booth.
*About shared-cycle ▶[click here]



Slide Lecture in English/ "The Japanese Cityscape in Print: Hiroshige to Hasui"
<This event has been cancelled due to the rapid spread of the new coronavirus after consulting with the speaker of this lecture. Our apologies for any inconvenience caused.>


August 22, Sunday
14:00-15:00
Speaker: Frank Witkam(Associate Fellow, Tokyo National Museum)
Venue: Lecture Hall
Limited to 60 visitors, on a first-comes, first-in basis.
Free with exhibition admission(ticket stubs are also accepted).

Learn about current exhibition "UKIYO-E LANDSCAPES: Hiroshige, Kiyochika, and Hasui―Eyes of Three Generations" in English. This lecture will guide you to discover the charms of cityscapes by Hiroshige, Kiyochika, and Hasui.

Click here for details